The City of Narita (Narita-shi means Narita City in Japanese, but it's more like a small town) is one train stop away from the airport. It is an interesting Japanese Temple town. One could easily spend a day or two exploring the area. If you arrive in Narita via Japan Rail you'll find yourself in the town square. If you arrive by Keisei line train from the airport, you will find yourself a few steps from the center of town. Walk straight out of the train station, walk straight past the bus station and turn right. you'll see a Macdonalds straight ahead which is on the main 'town square'.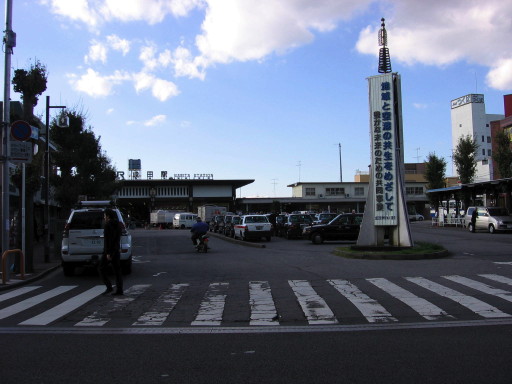 Your first stop should be the Information Kiosk which is located to the right of the entrance to the JR (Japan Rail) train station. (This is on the opposite side of the square from Macdonalds.) Here you can get area maps, directions to specific places, suggestions on what to do, help with hotels, etc.
Narita Rainbow Tours has a number of guided tours of Narita City and surrounding areas. If you're unsure about taking off on your own, this would be a good option. They will pick you up at the airport.
The Japan National Tourist Organization JNTO has an information-filled site on Japan.
Chiba City is about 25 or 30 minutes by train from the airport. Be sure to take the JR line as it is more direct and cheaper than the Keisei line. Chiba is a large port city with the usual collection of department stores and interesting shopping streets. A massive monorail system is being built which will dominate the city's skyline for years to come. Chiba is definitely worth a visit if you don't have time to get into Tokyo, but want to see a Japanese city larger than Narita.
Visit "Boso No Mura" or "Villages in Boso" , another suggestion from Dick Karp: "It is an interactive village that recreates a Japanese village from historical Japan. There is the main street of an Edo period Japanese town, model farmhouses from various historical periods, and even a Samurai's residence. At each of the various locations, there are things to try -- for example, you can try on Samurai armor at the Samurai's residence. It's open from 9 am to 4:30pm and admission -- as well as all the interactive events -- are completely free. Closed Monday (except national holidays, when they close on the next day, Tuesday). Also closed Dec 26 to Jan 4."To get there, you take the Narita line from Narita JR station for 2 stops to Ajiki. Then get on a bus bound for "Ryukakuji-dai Shako" and ask the driver to let you know when you reach "Boso No Mura" bus stop. Then cross the street and go up the crossroad for about 5 minutes to the entrance. Total time from Narita JR station is only about 25 minutes each way!
"On entrance, they will give you a short guide in English, also for free. The entrance is also where you sign up to participate in the various interactive events, of which there are many."
Another suggestion from Dick Karp:
The National Museum of Japanese History in Sakura is easy to reach, and well set up for English speaking visitors (the 420yen admission fee includes a headset which gives exhibit related commentary in English throughout the entire museum). To get there, the easiest way is to board a 'limited express' at the Keisei Narita station towards Tokyo and get off at the first stop, Sakura, which is about a ten minute ride. There is a 'limited express' about every 20 minutes; you can also take a regular train at the same fare which will take a bit longer. The museum is a 15 minute walk from the station and the route is posted in English. The museum is open from 9am-4:30pm (last admission 4pm) every day but Monday (open National holiday Mondays, but then closed the Tuesday following). I'd allow 3 hours for this trip.